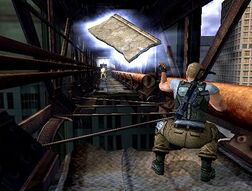 Telekinesis (or TK) is the ability to lift things without touching them. When used, a blue or purple mist comes out of your hand, and grabs the item in question. You can do many things with it.
TK is pressure sensitive. the harder you push the TK button down, the higher it goes. This allows the TK Multi-Lift.
Limitations
Edit
TK has a few limitations in its applicability:
Psionic Combination Tactics
Edit
Telekinetic Surfing
Edit
Telekinetic Surfing can be done by standing on an item, aiming the sight on it, and telekinetically lifting it. It can be used to cross some hazardous areas, though it generally is not the optimal method in either safety or in psi-force cost.
Known users
Edit