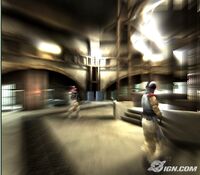 Remote Viewing (or RV) is a Psi power. It allows you to leave your body to go explore. Your body is still vulnerable to attack, but your RV 'projection' is invisible.
Using it you can:
Spy on enemies without them noticing.
Look at the other side of a locked door.
Use it to know what you're up against, and plan your attack.

There is a second form of remote viewing that shows Nick details of puzzles and/or enemies in the next room, this is not a selectable power and own happens several times during the game. It is possible it is a form of precognition.
Weaknesses
Edit
Like all powers, RV has weaknesses.
There is a limit to how far you can travel in RV before the screen fades to white and you are pulled back to your body.
Enemies can still shoot your body while you are away.
Can only travel though doors, not solid walls.
The 'projection' is affected by gravity, limiting its travel options.
Known users
Edit