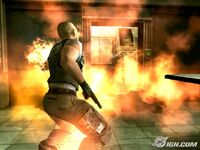 Fire is a plasma that burns anything it touches. It is very destructive.
There are multiple sources of fire.
One common source is pyrokinesis. It is the ability to generate and sometimes control fire. Powerful pyrokinetics can create large amounts of fire.
Explosives
Edit
Another source of fire is explosives. Some explosives (such as explosive Barrels) will light things on fire when set off.
Fire is very dangerous. When on fire, health drains very quickly. It often kills immediately. When touching fire, health still goes down, but not as fast. Fire should not be touched.